The biggest challenge with building a new product is that you aren't a mind reader. So you have no idea what your potential customers want to use or see in your product. You have to understand why your customers are using your product if you want to convert more leads. Or upsell to more current customers. Likewise, you have to understand why users aren't converting too. Many business owners struggle with knowing why users aren't converting.
For example, I had a good amount of success with user sign ups after being featured on Product Hunt, but most users weren't converting. I never knew why and I didn't invest enough time into figuring out why they didn't convert. Big mistake.
Later on, I realized many different people sign up for many different reasons. Some users just sign up to see your product's UX. Others are interested… until they are required to pay, that is. While some expect some sort of feature that we didn't have. I wish I would have dove deeper early on.
Fortunately, we have a lot of software tools that we can use today to help you learn more about what your users are thinking and doing on your site. I compiled a list of 11 tools you can use to help you with that:
Other recommended reads: "10 Tools That You Can Use To Help Reduce SaaS Churn" & "The Ultimate Startup Software Stack Tool Guide"
Crazy Egg is an awesome tool created by Neil Patel and Hiten Shah. It's one of my go-to tools for heat maps. Heat maps are important because it shows you what your users are clicking on. You'll be surprised at the things that you can learn from using Crazy Egg. For example, with Crazy Egg, you can see the things that your customers are clicking on that they aren't supposed to be. One of our customers that blogs noticed that people were clicking on a picture of a food that she prepared. She later learned through surveying her audience that they were actually trying to share her photo with their friends. So she set up a Pinterest sharing plugin within her WordPress blog to fix that issue.
We learned a lot about what our users are doing on YesInsights homepage by seeing how far users are scrolling down. We learned that we need to put a stronger call to action for our "Sign up" button in the middle of the landing page because users weren't going all the way down.
Crazy Egg starts at $9 a month. Totally worth the value!
You know how difficult it is to get responses if you've ever tried emailing your customers a survey. However, we all need honest feedback to improve our businesses and stay competitive. Don't you wish you could email your customers, and get their feedback by only making them click one button? This is where the power of YesInsights kicks in. With YesInsights, you can create simple one-click or NPS surveys that receive a 75%+ response rate. Start your free trial here.
Good customer feedback will result in separating yourself from the rest of the crowd. Being in tune with your customers will provide you with more clarity to make better business decisions. Your customers will tell you what features they want to be built next. This help ensures you have a better product roadmap and more importantly, it will help you build a product that people love. And you'll see an increase in free trial-to-paid user conversions as you take a more proactive approach in your attempts to engage and then retain your audience. When this is all put together you will have created a unique customer experience that can't be matched by any competitor.
Customer feedback is the best way for you to learn more about what your users are thinking. Analytical tools like Google Analytics or heat map tools like Crazy Egg will only get you so far. They answer the what, but not the why. But with surveys, you can actually hear the voice of your customers. NPS surveys also help you understand if your product is working towards product market fit.
Recommended read: "How to Convert Leads into Paid Customers with Email Surveys (and what to do if you can't)"
YesInsights starts at $20/month and you can use all of the features including the website widget! For the price of a few Big Macs, you will get your value's worth! And you won't have to stay on the treadmill extra long 🙂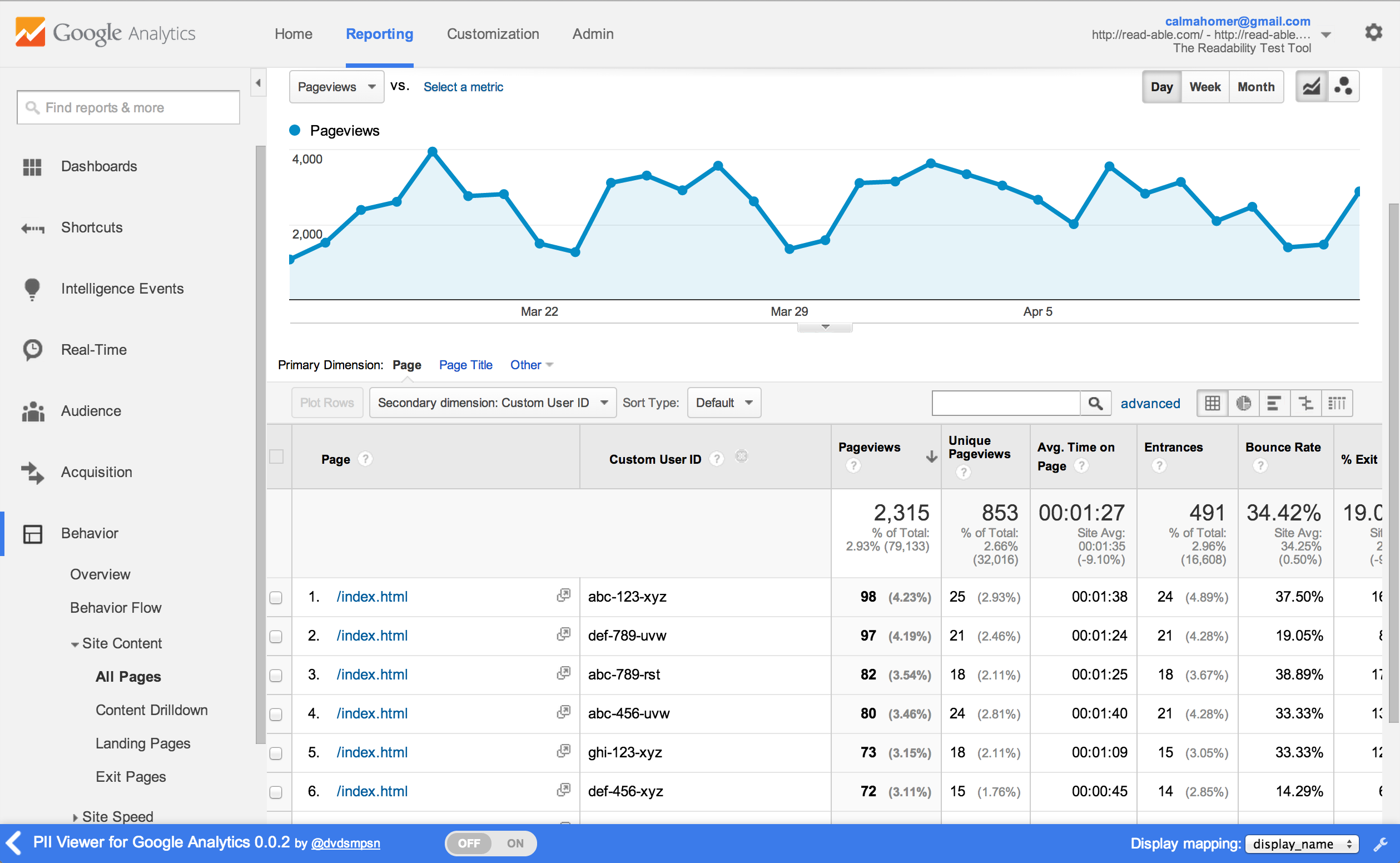 This is the bread and butter app that every marketer and product person should be using. Web analytics software is essential for understanding your visitors. It tells you detailed statistics about the visitors to your website, where they came from, and which links they clicked on once they arrived.
There are a lot of apps that you can use for website analytics such as Mixpane. But we recommend Google Analytics because it's free and it's a robust solution to your website's analytics. Google Analytics can also track referral traffic including search engine, direct visits, website referrals, and marketing campaigns (pay per click, banner advertising, email marketing, etc.). One of the things that I love most about Google Analytics is how you can set goals to see how many conversions you are getting. This allows you to narrow down where your users are dropping off in the funnel and where the majority of your users are coming from.
UserTesting.com is a website dedicated to finding your website's biggest problems in a short amount of time, and then providing you with the information and feedback you need to improve your site's usability.
UserTesting.com gives you the ability to create a test for your website and then have real people take the test and give you feedback via video recording, while they are using the site. You can also ask them follow-up questions for further information.
What's amazing about UserTesting is that you can actually see an actual person using your product. The tester doesn't only use the product, but they actually talk about it throughout their process and share their thoughts. This is a gold mine for all product managers, UX designers, and founders.
Let's say you notice that two testers are struggling to understand a certain part of your product. Now you can work closely with your team to fix that issue. Another great thing is that you can test both web apps and mobile apps.
Pricing: Starts at $99 per video.
Since we're already talking about watching what your users are doing on your app, then everyone should check out UXCam. UXCam helps find and fix usability issues by pinpointing UX issues and letting you watch videos of your user interaction.
UXCam can capture and visualize a range of UX data with 2 lines of code that takes 2 minutes to integrate! This helps developers get a clearer picture of how users interact with their app so they can make informed decisions that improve its usability.
Understanding your users and getting their feedback is one of the best methods for improving your product design. And UXcam can help with that!
Mixpanel is a mobile and website visitor analytics tool designed for SMBs and enterprises. Mixpanel goes beyond recording simple page views and reports upon customer engagement and actions within the app. It enables you to drill-down further into your analytics and ask more specific questions about your customers.
Through customer segmentation and funnel analysis, use Mixpanel to drill-down and better understand the value of each marketing channel.
Mixpanel measures visitor engagement within a site in real-time, tracking visitor movements, views, shares, likes, and purchases. It allows you to measure what customers do in your app in to-the-second real-time and compare your metrics from weeks before.
I used Mixpanel heavily when I was Head of Growth at Iron.io. And I loved it. It allowed me to see exactly what each one of my users was doing on the site and how many actions they made. Also, I was able to see how often they were coming back and where did they come from. And I absolutely loved was the cohort analysis feature. It was a lot more useful than Google Analytics' cohort analysis.
Hotjar is a complete website and mobile analytics tool enabling web developers, UI designers, analysts, digital marketers, and more to optimize the usability and conversion rate of their websites.
Hotjar combines both analysis and feedback tools to give users insights into how visitors interact with their site, how they could improve that user experience and ultimately, how they might increase conversion rates. With Hotjar, users can think like an actual website visitor, understand their mindset and identify UX issues that are frustrating to them.
Hotjar enables users to visualize visitor interaction on their site to better understand where drop-offs occur and identify areas for improvement through features such as heatmaps, visitor recordings, and funnels. More direct visitor feedback can be garnered from visitor-facing features such as customizable surveys and polls which come with support for over 20 languages.
Talking about the importance of customer feedback, everyone should check out GetFeedback. GetFeedback is designed for business professionals who want to gather feedback from customers, partners, employees, website visitors, or anyone else, using professional, branded, attractive, and high-quality surveys.
GetFeeback helps you create mobile-ready online surveys in a short amount of time and lets you view the results in real-time through graphic representations of data. The app was designed to complement the devices and platforms used in the modern era, such as smart phones, tablets, websites, social media channels, and email. With GetFeeback you can create professional, high quality and branded surveys using your own colors, fonts, logos, and images.
GetFeedback also helps with the process of sending and tracking feedback. The app does this through integrations with Salesforce as well as on Open API to automatically sync email surveys sent to your customer lists. You can then monitor the results as they come in in real-time with analysis tools and push notifications.
GetFeedback is more of an enterprise product, but what I personally love about them is their amazing design. It's like a whole image creator platform in one place.
One of the best ways to gather feedback is through using a website widget. This allows you to capture a mass majority of the audience that hasn't signed up yet. Survicate allows you to run short surveys on your website to ask visitors and customers questions.
You can actively gather feedback and adjust the website and services to their needs and improve their experience or create surveys from scratch or use a library of pre-defined templates.
One of the things that I love the most about Survicate is how you can define the targeting. For example, if you only want the widget to capture feedback from certain pages, you can adjust that.
Find out what users think of your screens or mockups before they go live by using Verify. Testing ideas and getting feedback before implementation in this way can help you save tons of time and reduce unnecessary rework.
Verify lets you test screenshots of your design work to gain valuable insights on your users' expectations and reactions to your apps and websites before writing a single line of code. Your team will love the great-looking, actionable, reports that will help them make informed design decisions.
One of the strongest features about Verify is how you can filter out the demographics and where the users are coming from, which makes it a lot more powerful when it comes to learning more about what your users are thinking.
11. Your Smart Phone 🙂
This one is for fun! What's a better way to communicate with your customer and get into their brains? Pick up the phone and literally call them! Don't be afraid to speak with your customers. Steli Efti from Close.io talks about how sometimes you need to literally knock on your customer's door in order to a close a deal!
Your customers are the ones that are paying you and they are going to be your biggest advocates. They will be the one that will refer you to even more high profile customers. Get on the phone for 10 minutes with every customer. You will be surprised on how much knowledge you can gain from a simple call!
I hope you enjoyed the article!
Take Out The Guess Work And Discover What Your Customers Really Want
Sign Up For Your Free Week Trial To YesInsights By Clicking Below 🙂
Gimme My Free Trial!
---
If you enjoyed this article, can I ask for your email below? We only send out email once a week with our latest updates and tips on making your customers happy!