If there's one thing that every single business owner suffers from its negative feedback from customers. No matter how in top shape you or your company may be, there's still a chance for problems to crop up for the business. There will always be some disgruntled customer who simply can't be pleased. How does one deal with this kind of problem exactly? Here are some tips that will help you out.
Transforming Negative Into Positive Feedback
Negative feedback is inevitable for any business out there. It's not easy for most people to deal with. Even so, while the feedback may be negative at least you know that your customers are engaging with you. Which is much better than churning! So when you do get negative feedback, assess the problem, and respond in a respectful manner as soon as possible. Many times your customer just needs to vent. And you should be doing whatever you can to rectify the problem. You show your customers that you care and their opinions matter when you respond in a timely manner. This will help you salvage your reputation with the customer and keep them as loyal as your business continues to improve.
Eating Humble Pie
This can be a bit of a difficult action for people to perform, but at times complainers want some kind of validation. If the customer complains about the product or service given to them, apologize and offer them a free item with their next order or a discount for your service. Make sure to keep track of the complaints in order to find recurring issues. Accomplishing this will lead to a much more cheerful customer, due to the acknowledgment given to them, locating and solving problems within your service, and showing the public that you can handle the problem.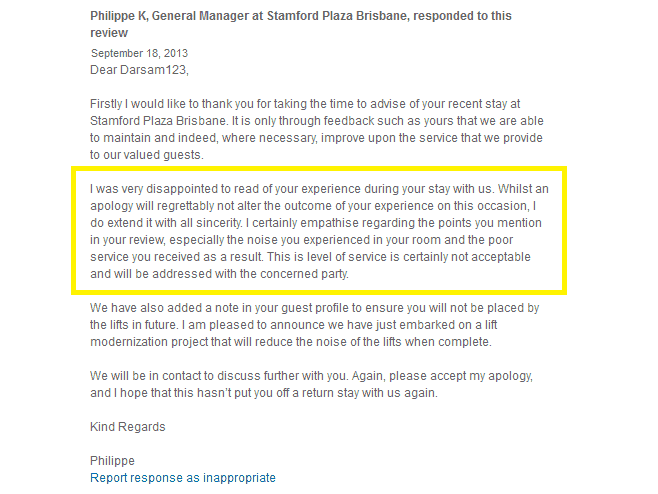 Publicly
If someone complains in an open forum, ensure the people that you care about customer service issues and are currently working hard to fix it. If it's posted on a social media, make sure to post the resolution in the same place it popped up. Sharing it with other channels is also advisable.
Don't take things personally when someone gives off some negative feedback, especially if it's open for the public to read. Negative feedback comes with the territory of running a business and needs to be handled delicately. Just make sure to react in a way that will make the customers remember it in a positive light. You can clean up any negative experience by handling the criticism and flipping it around with amazing customer service. It could even earn new customers if it was handled professionally. 
Responding To Negative Feedback Is Made Easy When You Get Real Time Results
You can fix the problem (almost) before it even happened with YesInsights. Sign up for your free trial today and start sending surveys and getting responses in real time!
Your Free Trial Is Waiting..